This content has been translated by bestmembers
Popular photo sharing platform Instagram along with its many features also offers story sharing features. This is one of the best features currently available on Instagram. With a few clicks, you can add popular music, emoji, GIFs, and more to make your stories more relevant. And the best part about it is that the stories only stay for 24 hours.
But when saving pictures with music, problems arise. You can download the picture, but the music on it is not loaded. In order to download your story as is, you must know how to save Instagram stories with gallery music.
In this step by step guide, you will learn 3 ways to upload your story with music to your gallery.
How to save Instagram story with music in gallery after posting?
If you plan to upload a story after you've posted it, please follow the steps below to find out how.
With another application.

You can also save stories after they expire, for example after 24 hours, you can download them via Archives.

Other ways maybe, you can share the story as a post and then download it, it will be loaded with music.
Instagram Story Saver App: Using the App
On Instagram, if you have a public account, you can install another app to upload music to your story without logging into your account. If you have a personal account, you will need to add your account and then you can upload your music story.
Apps you can use
Saving stories

IS Stories
With history preserved:
With Story Keeper, if you follow the steps below, you can easily download your story with music. However, this app is only for public accounts.
Go to Storysaver.net from a browser.

In the search bar, enter the name of your account handle.

After that, you must confirm the captcha and click "Download".

It will show existing Instagram account stories.

The story you want to download with music, next to it, click "Save as Video" to download.

A pop-up window will appear asking you to download.

Now click "Download" and now you have a music story in your gallery.
For private accounts, you must use the app from the Google Play Store or Apple Store.
With IG stories:
This method also works for public accounts. You can also download the highlights available on your Instagram stick.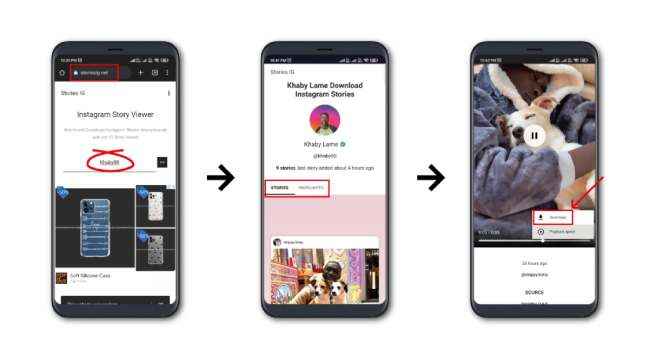 Go to storyig.net from a browser.

Enter your Instagram username in the search bar.

Here you will be able to see available stories and highlights.

Now click Save Video, Story or Highlight you want to save.

A pop-up window will open asking you to "download".

Click "download" and now you can access the video in your gallery.
Archive stories:
Once you enable the "archive stories" option, your stories after your stories expire will be automatically uploaded to your android archives. To make this happen, follow the steps below.
Open the Instagram app.

Go to "Settings" and then to "Privacy".

Click "History".

Now turn on the "save to archive" option.
How to save Instagram Story with music in android gallery?
If you want to save it with video, follow these steps:
Go to Chrome and open the splash screen.

Now open Instagram and open your story, click on the three dots in the bottom right corner and click "copy link".

Now paste the link in the screensaver and download it.
How to save Instagram story with music in iPhone gallery?
The steps to download history with music on iPhone are as below:
On your iPhone, go to Safari.

Now go to the story keeper.

Paste the link to your story into the search box and click Download.